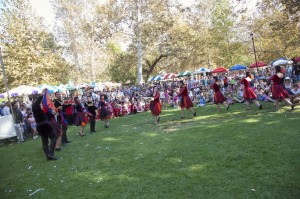 GLENDALE, CA – To mark the 21st anniversary of the Independence of the Republic of Armenia, the Nor Serount (New Generation) Cultural Association attracted thousands of attendees to Verdugo Park for its annual Armenian Independence Day Festival, on September 16, 2012. The festival was also the first of many events to be held to honor the 125th anniversary of the Social Democrat Hunchakian Party.
Community leaders and elected officials were present to join in on the festivities, as well as pay homage to the struggle, strife and resilience of the Armenian people in establishing and maintaining a free and independent Armenia.
Representing His Eminence Archbishop Hovnan Derderian, Primate of Western Diocese of Armenian Church, the very Rev. Father Michael Gureghian presided over the opening ceremony with a prayer, while Armenia Consul Mr. Eghia Mansuryan expressed the Consular General's great esteem that Armenia's Independence is celebrated in such high fashion thousands of miles away.
Among the elected officials were California State Senator Carol Lui, California State Assemblymember Mike Gatto, California State Assemblymember Anthony Portantino and Glendale City Councilmembers Laura Friedman and Ara Najarian.
The festival featured live performances by artists in the Armenian-American community who heightened a sense of pride and unity among fellow patrons who happily danced and cheered for the performers. The joyful mood was highlighted by the co-Master of Ceremonies, Taguhi Oganyan and Vardan Amolikyan, who presented artists Samvel Sahakyan, Alfred Galstyan, Herachya Mekhitaryan (Chuko), Ruben Harutyunyan, Karen Boksyan, Roman Babakhanyan, Arman, Shiraz Yeghiazaryan, Seroj Avoyan, Ani Tamrazyan, Suro Ketchian, violinist Allen, children's sensation Maggie, Arno Mkertichyan and the PLAN-G, DJ All Star Gilbert and magician Albert Nazaryan.
Dazzling the audience of both young and elderly community members, the Nor Serount Dance Group and Lilia Dance Group made up of children between the ages of four and 16, included both traditional Armenian and modern dance routines.
"We were very happy with the turnout of the event," said Krikor Moloyan, Board Member of the Armenian Council of America. "This is an opportunity for everyone in the community to get together and celebrate the Independence of Armenia, as well as engage the younger generation and teach them our cultural values that have been passed down from our elders and to maintain a strong sense of national pride in our heritage."