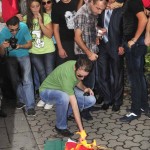 YEREVAN — Hundreds of people protested outside the Hungarian consulate in Yerevan on Saturday after Budapest sent convicted murderer Ramil Safarov back to his native Azerbaijan, where he was pardoned. The protest was jointly organized by "Sargis Tkhruni" student union of Social Democratic Hunchakian Party and "Hayazn"
The demonstrators burned the Hungarian flag and threw eggs, tomatoes and coins, accusing Budapest of doing a deal with Baku in order to profit from Azerbaijan's energy riches.
"The Hungarians have sold their honor and conscience to the Azerbaijanis like a common prostitute," protest organizer Armen Mkrtchian told AFP.
The protesters held slogans of "Shame", "Death to the enemy" and "Hungary is a sold country".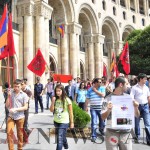 Hungarian national armenologist Sigmund Benedek also participated in the protest, he issued the following statement: "I am asking for forgiveness from the whole Armenian nation as well as from the family of Gurgen Margaryan. I consider such behavior of Hungarian Government as immoral against Armenian nation. Gurgen Margaryan was murdered in result of crime committed against ethnic identity. Extradition of Safarov is the great mistake of Hungarian diplomacy: I will be the ambassador of Armenian opinion in Hungary" mentioned Hungarian armenologist asking not to put parallels between Hungarian nation and authorities.
"Hungarian nation is near Armenians and Armenia" he summarized.