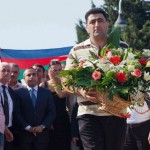 BAKU — Ramil Safarov was promoted to the rank of major and received hefty material benefits from Azerbaijan's government on Saturday one day after being released from a Hungarian prison.
News reports from Baku said Azerbaijani Defense Minister Safar Abiyev announced the promotion when he received Safarov, in his office. Abiyev wished the 35-year-old future success in his military career.
Abiyev went on to thank President Ilham Aliyev for granting Safarov a pardon immediately after the latter's controversial repatriation from Hungary, where he served a life sentence for hacking to death Armenian Lieutenant Gurgen Markarian during a NATO training course in 2004.
According to the Trend news agency, the Azerbaijani Defense Ministry has also decided to provide Markarian's confessed killer with a free apartment and pay his wages accumulated during his more than eight-year imprisonment.
Armenia denounced Safarov's promotion and rewards. A spokesman for the Defense Ministry in Yerevan, Artsrun Hovannisian, said they demonstrated that "the Azerbaijani leadership is also in a sick mental state." Hovannisian told RFE/RL's Armenian service (Azatutyun.am) that Baku is thus turning "the brutal murderer of a sleeping person" into a role model for Azerbaijani army officers.
Safarov received a hero's welcome and described his release as a "triumph of justice" on his return to Azerbaijan. "I am ready to continue my military service," he was reported to tell journalists in Baku.