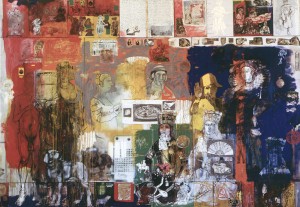 NEW HAVEN, CT — Southern Connecticut State University is presenting an Armenian Art Exhibit curated by Vicki S. Hovanessian in honor of the inauguration of Dr. Mary A. Papazian as the eleventh president of Southern. A special Armenian Art reception to be held on Thursday, September 27, 2012, from 4 to 6 p.m. At the John Lyman Center for the Performing Arts as we celebrate this wonderful occasion.
The exhibit presents paintings, drawings and sculptures by 13 leading Armenian artists some currently or formerly based in Yerevan, Armenia, while others are in the United States. The artists whose work appears in the exhibit are Ashod Bayandour, Arshile Gorky, Sarkis Hamalbashian, Hamlet Hovsepian, Gayane Katchadourian, Vasken Kalayjian, Reuben Nakian, Vahan Rumelian, Ararat Sarkissian, Arthur Sarkissian, Shanoor, Kegham Tazian and Paul Zenian. Hovanessian.
President Papazian is the first woman of Armenian descent to serve as a college or university president in the United States. President Papazian and her husband, Dennis Papazian, are very involved in the Armenian community. As a couple they've done a great deal to raise awareness about Armenian heritage and culture, including the Armenian Genocide of 1915.
The exhibit and reception are free and open to the public. The gallery is open Monday-Friday from 9 a.m. to 4 p.m. For more information about Papazian's inauguration, visit http://www.southernct.edu, or contact the SCSU Office of Public Affairs at 203-392-6589.