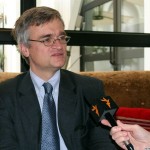 YEREVAN — Peter Semneby, the EU's outgoing special representative to the South Caucasus, on Thursday again expressed concern about an intensifying arms race between Armenia and Azerbaijan and warned that deadly skirmishes in the Nagorno-Karabakh conflict could escalate into more serious fighting.
Semneby also urged Armenia's leadership and opposition to "turn the page" on their tragic 2008 standoff.
"The ongoing arms race in the region can only have a destabilizing impact," Semneby said. "This is something that we are seriously worried about. We have seen a lot of incidents over the course of last year."
"In the context of such an arms race, we fear that the threshold for the use of force in the conflict may gradually be lowered," he told reporters during a farewell trip to Yerevan.
"I'm not talking about deliberate actions but we can not exclude that any of these incidents at some point escalates beyond control," Semneby said when asked to comment on the likelihood of a full-scale Armenian-Azerbaijani war for the disputed territory.
Semneby already voiced such concerns last September. He told Reuters that ceasefire around Karabakh should be strengthened, possibly with the deployment of more international observers.
The envoy noted on Thursday that the conflicting parties made "less progress than we had hoped for" in their peace talks which he said are attracting growing interest from the EU. "The Nagorno-Karabakh conflict is becoming a more and more serious issue for the European Union," he said.
The EU hopes to ease its dependence on Russian energy resources by importing oil and gas from Azerbaijan and Central Asia through new pipelines bypassing Russia. The unresolved Karabakh conflict hangs ominously over the implementation of those projects.
Semneby dismissed Armenian opposition claims that the EU has tolerated human rights abuses in Armenia stemming from the 2008 post-election unrest in hopes of facilitating a Karabakh settlement. "We are not turning a blind eye on the aftermath of the 2008 state of emergency," he said. "It is an issue that is constantly on our agenda."
"Instead of turning a blind eye, what we are advising is to turn the page and let these issues be issues of the past. And in order to do that a number of steps would be helpful," the diplomat said without elaborating.