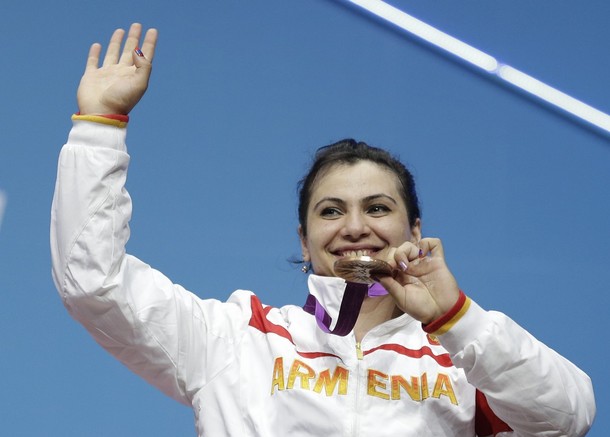 LONDON — Hripsime Khurshudyan achived Armenia's first medal in London Olympics  by winning bronze  in women's super heavyweight class with a total of 294 kg (128kg snatch and 166kg clean and jerk).
China's Zhou Lulu won the gold medal in a world record-smashing duel with Russia's Tatiana Kashirina.
The Russian lifter's total world record of 332 kilograms was short-lived, with Zhou beating it by 1 kilogram with her second clean and jerk. Kashirina also set a snatch world record.
The two traded record lifts before Zhou came out on top, lifting a world record total of 333 kilograms, including an Olympic record of 187 kg in the clean and jerk.
Kashirina had earlier broken Zhou's year-old world record with her total of 332 kg but failed a final lift that would have given her gold, although the Russian left with a world record of 151 kg in the snatch.
Khurshudyan's result is impressive after painfully dislocating her elbow last year during the World Weightlifting Championships, which caused her to drop out from that competition.