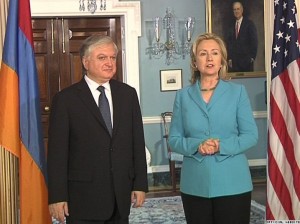 WASHINGTON, DC — U.S. Secretary of State Hillary Clinton and Armenian Foreign Minister Edward Nalbandian held talks in Washington late on Thursday, with the unresolved Nagorno-Karabakh conflict apparently topping the agenda.
They made no public statements after the meeting which the Armenian Foreign Ministry said touched upon "a broad range of issues" of mutual interest.
"The United States and Armenia have many connections and relationships that span politics and go into family and so much else that is very important to us," Clinton said as she greeted Nalbandian at the State Department. "And we have many, many important issues ahead of us, and I look forward to continuing the important conversation that we've been carrying out."
"The frequency of our meetings proves our commitment to deepen and to strengthen Armenian-American relations," Nalbandian said, for his part. "Due to our joint efforts, we elevated our relationship to a qualitatively new level during the last years."
In a statement on the meeting issued on Friday, Nalbandian's press office singled out the two officials' discussion of "recent developments" in international efforts to broker a resolution of the Karabakh conflict. It quoted Clinton as saying that the dispute can be settled only by peaceful means.
According to the statement, Clinton assured her Armenian counterpart that the United States will continue to lend "full support" to Armenia and Azerbaijan in their search for a compromise settlement.
Philip Gordon, the U.S. assistant secretary of state for Europe and Eurasia, told a U.S. congressional panel on Wednesday that Washington plans to "increase our engagement" in the Karabakh peace process through the OSCE's Minsk Group, which it co-chairs with Russia and France.
"In that regard, we strongly believe that the time has come to finalize and endorse the Basic Principles [of a Karabakh settlement] and move to the drafting of a peace agreement," Gordon said, echoing a joint statement issued by the Minsk Group co-chairs last month.
Later on Thursday, Nalbandian held separate meetings with Gordon and Robert Bradtke, the group's U.S. co-chair. An Armenian Foreign Ministry statement said he discussed with the latter a fresh visit to the region planned by Bradtke and his Russian and French opposite numbers. No further details were reported.