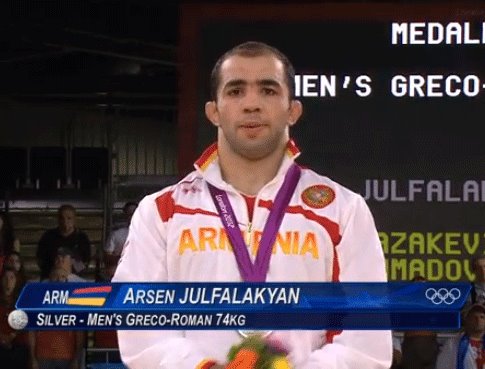 LONDON — Sunday turned out to be a good day for Armenia as Arsen Julfalakyan won a second medal for the country in the 2012 Olympic Games. Julfalakyan won silver medal in men's 74kg Greco-Roman wrestling after loosing to Russia's Roman Vlasov 3-0 in the final.
Julfakayan reached the final match by beating Azerbaijan's Emin Ahmadov 3-0 in a semi-final matchup.
Lithuania's Aleksandr Kazakevic and Ahmadov won bronze medals.
Julfalakyan started wrestling in 1998. He twice won the Junior European Championship medals (2003, 2004). He is the best European junior wrestler (2004), bronze medalist of the Youth Olympic Games (2002), silver medalist of European Youth Championship (2006), bronze medalist of the same tournament in 2005, winner of the Youth World Championship (2007), European Champion (2009 ), bronze medalist of European Championship (2012), silver (2010) and bronze (2011) medalist of the World Cup.