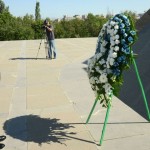 YEREVAN — Public Diplomacy and Diaspora Affairs Minister of Israel, Yuli-Yoel Edelstein laid a wreathe at the genocide memorial on Yerevan's Tsitsernakabert hill during what was the second trip to Armenia by an Israeli government member in four months. Agriculture Minister Orit Noked visited Yerevan and paid her respects to genocide victims in April.
"The Armenian Genocide is widely recognized in Israel", the minister said after visiting the genocide memorial, he also drew parallels between the Jewish Holocaust and the Armenians Genocide of the 20th century.
"True, there is no state law [in Israel recognizing the genocide,]" Edelstein told RFE/RL's Armenian service (Azatutyun.am). "But I think that in Israel, in view of … our common history and some similar elements and moments, you will hardly find people who will deny the genocide, who will say, like we unfortunately hear, that all this is fabrications and lies."
"So I think that unfortunately — I stress, unfortunately — in this area our peoples have quite a lot in common, quite a lot for mutual understanding," he said.
Citing the strategic character of Israel's relationship with Turkey, successive Israeli governments have resisted domestic calls for Armenian genocide recognition. An Israeli Foreign Ministry official reaffirmed this stance during landmark hearings on the issue that were organized by an Israeli parliament committee last December.
Support for Armenian genocide recognition appears to have grown within the Israeli parliament, the Knesset, and the government since 2010. Some observers link that to Israel's worsened relations with Turkey, which vehemently denies the genocide.
Israel's Environment Minister Gilad Erdan, a close ally of Prime Minister Benjamin Netanyahu, publicly called for the Jewish state to "formally recognize the Holocaust perpetrated against the Armenian people" during further Knesset discussions on the sensitive issue in June. Erdan acknowledged that the Israeli government has not changed its policy yet.
Edelstein arrived in Armenia to attend, together with Armenian Culture Minister Hasmik Poghosian, an event marking the 20th anniversary of an organization representing the country's small Jewish community. He also held separate talks with Poghosian.
"When it comes to cultural exchanges, there are benefits to both sides involved," Edelstein told RFE/RL's Armenian service. "That is why I hope this is not just a visit but perhaps also a change to some different phase in at least cultural ties between us."
"I am sure that such meetings and contacts will continue and we will turn our relations from being just good and normal to relations that will fully realize the potential for cooperation between our countries," added the Ukrainian-born minister.