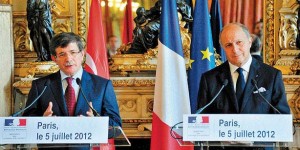 PARIS — Turkey's foreign minister hailed the opening of a warmer phase in relations with Paris following the new French government's decision to end its efforts to pass a bill to criminalize denial of Armenians genocide.
During a meeting in Paris on Thursday, foreign ministers of the two countries (Ahmet Davutoglu of Turkey and Laurent Fabius of France) agreed to improve the strained relations between the two countries over the Armenian genocide bill.
Following the meeting with his French counterpart, Turkish foreign minister said: "as a result of the few difficulties which we experienced in the past, Turkey took a series of measures against France, but I would like to announce that these measures have been completely removed."
French Foreign Minister Laurent Fabius said the law, which was rejected by France's highest court in February as contrary to free speech, was unlikely to be resurrected.
Former President of France Nicolas Sarkozy had previously proposed a bill to the French parliament to criminalize denial of the Armenians genocide by the Ottoman Empire.
However, the proposal which had caused widespread protests across Turkey and infuriated the Turkish establishment, was ultimately declared illegal by the French Constitutional Court.
At the meeting, Fabius hailed "a new period of relations on every level" between the two countries, but skirted the question of Ankara's bid to join the European Union, which was launched in 2005 but has virtually ground to a halt due to a dispute over the Turkish occupation of Northern Cyprus.
Fabius hinted that EU membership for Turkey would be put to a referendum, as anticipated by a 2008 constitutional amendment which can nonetheless be overruled by parliament. "At the end of the day, things will come down to the decision of the people," he said.