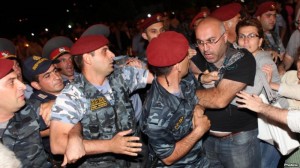 YEREVAN — An Armenian human rights campaigner claimed to have been assaulted by Ruben Hayrapetian late on Sunday as hundreds of activists clashed with riot police in continuing protests against deadly violence at a restaurant owned by the government-linked businessman.
Armen Vezirian, a member of the Armenian Helsinki Association, was among the protesters that gathered outside the Harsnakar restaurant compound in Yerevan for another candlelight vigil for Vahe Avetian, a military doctor who was beaten to death there late last month.
Vezirian said he was confronted by Hayrapetian after approaching the two-story restaurant. "I was taking pictures when he said that it's private property, swore at me and told me to get out," he told journalists. "Then he punched me."
Hayrapetian, who has been facing allegations of complicity in Avetian's death, did not publicly comment on the allegations.
According to Mikael Danielian, chairman of the Armenian Helsinki Association, the embattled tycoon telephoned Vezirian and apologized for his behavior. "Ruben Hayrapetian said that his actions resulted from his nervous condition," Danielian told RFE/RL's Armenian service (Azatutyun.am).
Vezirian was questioned by the Yerevan police in connection with the incident on Monday. A police statement said that the activist said that he will not lodge a formal complaint and "has no demands from Ruben Hayrapetian." The police will therefore not launch criminal proceedings against Hayrapetian, it said.
Hayrapetian, who also heads the Armenian Football Federation has been implicated in politically motivated violence against opposition members in the past and is also notorious for insulting journalists and other critics. Civic activists, opposition figures and some media outlets hold him responsible for the June 17 incident at Harsnakar. They say it was the result of impunity enjoyed by government-backed "oligarchs" like Hayrapetian and their notoriously violent bodyguards.
Street protests against the tycoon continued even after he resigned from Armenia's parliament on July 3, admitting "moral" responsibility for Avetian's death and asking the victim's family for forgiveness. The protesters want him to also resign as AFF chief and be declared a suspect in the ongoing criminal investigation into the fatal beating.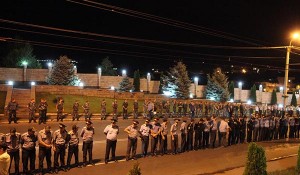 Hayrapetian allegedly hit Vezirian shortly after several hundred people again gathered near Harsnakar on Sunday evening. Riot police prevented them from entering the compound located in Yerevan's northern Avan suburb and putting candles by the restaurant building.
The crowd responded by blocking an adjacent street. The police used force to push it to the sidewalks and reopen the street to traffic, meeting with brief resistance in the process.
Chanting "Avan, join us!" the protesters then marched to Hayrapetian's nearby sprawling mansion surrounded by high walls and guarded by riot police. Turning their back on the house, they observed a five-minute silence in memory of Avetian.