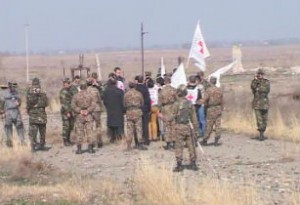 YEREVAN — An Azerbaijani soldier who reportedly surrendered to Nagorno-Karabakh's armed forces in January has been deported to "a third country," Armenia's Defense Ministry said on Friday.
Speaking to RFE/RL's Armenian service (Azatutyun.am), a ministry spokesman refused to name that country. He said only that the 21-year-old Sergeant Mammadbagir Akhundzade did not want to return to Azerbaijan.
Akhundzade was detained by Karabakh Armenian forces on January 23. Military authorities in Stepanakert said at the time that he deserted an Azerbaijani army unit deployed northeast of Karabakh and deliberately crossed into the Armenian-controlled disputed territory.
Akhundzade is not the first Azerbaijani prisoner of war deported to a third country from Armenia. Some of the Azerbaijani soldiers captured by Armenian troops in the past also chose not to return to their homeland, apparently for fear of prosecution.
Earlier this year, Azerbaijan likewise deported three Armenian POWs to an unknown country. According to the Defense Ministry in Baku, they surrendered to Azerbaijani forces in February 2009, claiming to have been mistreated by their commanders. The conscripts — Hrant Markosian, Artush Sargsian and Alik Tevosian — reportedly asked the Azerbaijani authorities not to repatriate them.