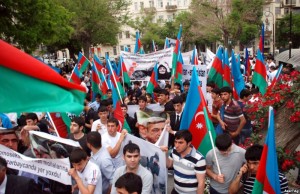 TEHRAN — Iran has recalled its envoy to Azerbaijan, amid a dispute between the neighboring countries as Baku prepares to host the Eurovision song contest.
Iran's embassy in Baku says Ambassador Mohammad Bagher Bahrami left for Tehran on Monday for talks on what the embassy called the "insult of religious saints."
The move came after dozens of protesters in Baku picketed the Iranian Embassy last week, protesting what they called "Tehran's anti-Azerbaijani politics" and holding pictures of Iran's ayatollahs and president with critical comments on them.
During the rally, demonstrators held up photos of Iran's president, Mahmoud Ahmadinejad, and the country's spiritual leader, Ayatollah Khamenei, in efforts to mock the two men.
Tensions between Iran and Azerbaijan have escalated in recent months after Azerbaijani authorities arrested a number of men with alleged links to Iran who were reportedly plotting attacks in Azerbaijan.
Ties have also frayed over reported closer links between Azerbaijan and Iranian rival Israel, including reported Azerbaijani purchases of Israeli weapons.
A senior Azerbaijani official, presidential aide Ali Gasanov, accused Iran of making slanderous statements about the country as Baku prepares to host the Eurovision Song Contest this week.
Azerbaijan comes under global scrutiny on Tuesday with the start of Eurovision, Europe's biggest songfest.
Baku is seeking to use the contest to boost its image. An estimated 120 million people worldwide will watch Eurovision.
Meanwhile, Armenia is boycotting the Eurovision song contest.