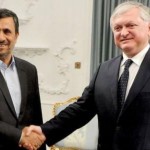 TEHRAN — On the invitation of Iran's FM Ali Akbar Salehi, Armenian Foreign Affairs Minister Edward Nalbandian arrived in Tehran Sunday on an official visit. And he was received by the Iranian President Mahmoud Ahmadinejad.
The two sides discussed the implementation of Armenian-Iranian joint economic programs, and Iran's President stressed the importance of these programs calling for a free trade agreement between the two countries. "Preparing conditions for free trade activities at the two countries' borders will remarkably aid in facilitating trade exchanges and traders' visits," Ahmadinejad said.
In Tehran, Edward Nalbandian also held talks with his Iranian counterpart, Ali Akbar Salehi. They examined the avenues for further improving the friendly ties between both countries, and the activities of the Armenian-Iranian Intergovernmental Commission. They reflected on bilateral cooperation, and exchanged views on expanding the legal framework.
Salehi gave details on the latest developments with respect to Iran's nuclear program and the renewed negotiations with key Western powers as well as Russia and China.
A Foreign Ministry statement quoted Nalbandian as hailing a "positive trend" which he said emerged at the Istanbul meeting and expressing hope that the interested parties will make further progress at Baghdad.
"Positive signals can be seen in solving Iran's nuclear issue and we hope they will result in a settlement of this issue," the chief Armenian diplomat said on Sunday at an ensuing joint news conference with Salehi, according to the Fars news agency. He also defended Tehran's right to use nuclear energy for peaceful purposes.
During the meeting, Armenia's FM briefed his Iranian colleague on the Nagorno-Karabakh conflict's settlement talks. They agreed to hold their next meeting in Armenia's capital, Yerevan.
In Tehran, Armenia's FM was also hosted at the Iranian parliament, where he met with the Speaker, Ali Larijani. Nalbandian underscored the effective cooperation between the legislative bodies of Armenia and Iran in strengthening bilateral relations.
FM Edward also met with Saeed Jalili, secretary of Iran's Supreme National Security Council and the country's Chief Nuclear Negotiator.