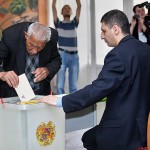 YEREVAN — Preliminary official results of Armenia's parliamentary elections released on Monday morning gave a landslide victory to President Serzh Sarkisian's Republican Party that will enable it tighten control of the National Assembly.
The Central Election Commission (CEC) said that with more than 100 percent of ballots counted, the Republican Party received just over 44 percent of votes cast under the system of proportional representation. Its junior partner in the governing coalition, the Prosperous Armenia Party, came in a distant second with 30.3 percent of the vote.
According to the CEC, all other major election contenders fared much more poorly, winning just enough to be represented in the parliament. The main opposition Armenian National Congress finished third with just over 7 percent. It was followed by the Zharangutyun (Heritage) party and the Armenian Revolutionary Federation (Dashnaktsutyun), which had roughly 5.8 percent and 5.7 percent respectively.
Orinats Yerkir, the third party represented in Sarkisian's coalition government, got 5.48 percent, also passing the legal vote threshold for having parliament seats on the party-list basis. Armenian law reserves 90 of the 131 parliament seats for the proportional representation system.
The CEC vote tally also showed that the ruling party grabbed at 32 of the remaining 41 seats that were distributed in nationwide single-mandate constituencies. The vast majority of them are wealthy businesspeople heavily reliant on their government levers and financial resources. No opposition candidate seems to have won in any of the single-seat districts.
The Republican Party was thus on course to have at least 70 seats in the new Armenian parliament. Its faction in the previous legislature officially numbered 63 members.
The Prosperous Armenia Party, which prevailed in 7 single-mandate districts, should increase its representation from 26 to 34 seats. The party led by businessman Gagik Tsarukian apparently had more ambitious electoral goals, though.
Opposition leaders cried foul after it emerged on Sunday morning that ink stamps meant to guard against multiple voting routinely disappeared after being put on voters' passports. The observer's report notes in this regard that the special ink used for the procedure "should have remained visible for 12 hours but faded much faster."
Vote buying was another principal fraud allegation voiced by the Armenian opposition even before the closure of the polls on Sunday evening.