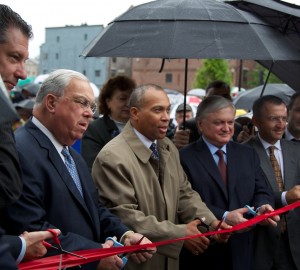 BOSTON — Hundreds of residents withstood the pouring rain on Tuesday morning to witness the dedication of the Armenian Heritage Park in downtown Boston. Governor of Massachusetts Deval Patrick and Armenian Foreign Minister Edward Nalbandian attended the dedication ceremony. They were accompanied by Boston Mayor Thomas Menino, local officials and representatives of the local Armenian community.
"I know there are a lot of umbrellas out there, and it may be uncomfortable. Just remember that we have waited a long time for this day, and I know none of us will allow the rain to dampen out spirits," said Middlesex Sheriff Peter J. Koutoujian.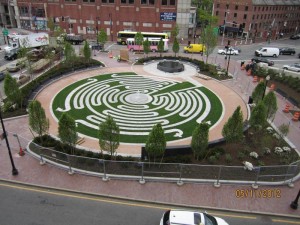 The park, located between the North End and Faneuil Hall, includes a sculpture surrounded by a reflecting pool, and is meant to honor Armenian immigrants to the state. Koutoujian said he and other Armenian community members have been fighting for the park since 1999.
"This is a gift to the city, not just for the Armenian immigrants. This is a park dedicated to all immigrants who have experienced coming to this great city," Koutoujian said.
"This park will stand in tribute to these Armenian immigrants and many other immigrant communities who escaped tragedy and misfortune and found safety in our shores," said Armenian Heritage Foundation President James Kalustian. "This park remembers and commemorates those who lost their lives in the genocide against the Armenian people and all genocides that have followed."
Governor Deval Patrick said the drive of the Armenian community to fight for the park is admirable.
"The quest for human dignity comes through when you talk to the proponents of this project," Patrick said. "Their yearning for recognition and acknowledgment and the fact that it was a gift to the commonwealth makes it a very moving opportunity."
The Armenian Heritage Foundation, which was founded in 2005, raised $6 million for the construction and upkeep of the park.