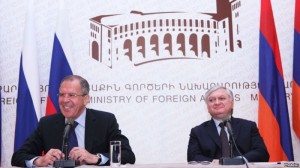 YEREVAN — Russia and Armenia spoke out on Monday against possible Western military action against Iran, with Russian Foreign Minister Sergey Lavrov warning of "very serious" consequences for regional security during a visit to Yerevan.
Speaking after talks with his Armenian counterpart Edward Nalbandian, Lavrov said attempts to end the West's nuclear standoff with Tehran by force would destabilize not only the Middle East but also the South Caucasus.
"It is hard to predict consequences [of military action] but they would obviously be very serious and negative," he told a joint news conference. "It would affect the security of not only Armenia but also Azerbaijan given the fact that there are three times as many ethnic Azerbaijanis in Iran as in Azerbaijan."
"It's hard to predict how the Iranian Azerbaijanis would react to the use of military force against their country," Lavrov said. "But if, God forbid, that happens then there will undoubtedly be large inflows of refugees and a large part of those refugees will end up in Russia given the existence of a large Azerbaijani Diaspora there."
Moscow has strongly opposed use of force by the United States, other Western nations and Israel ever since Iran embarked on a controversial nuclear program. Lavrov reaffirmed the Russian position that it would run counter to international law.
Nalbandian indicated that Armenia is also against air strikes and other military operations against Iranian nuclear facilities. "Iran is Armenia's neighbor and we are interested in solutions to problems concerning Iran achieved through dialogue and negotiations, rather than use of force," he said.
The Iran standoff as well as the situation in Syria were apparently on the agenda of the two ministers' talks which Nalbandian said testify to a "high level of political dialogue" between Moscow and Yerevan. A statement by the Armenian Foreign Ministry said they discussed "ongoing developments in the Middle East" and agreed on "the need to solve problems through dialogue."
According to the statement, Lavrov and Nalbandian also had a "detailed discussion" on international efforts to end the Nagorno-Karabakh conflict. Nalbandian was quoted as praising Russia for its active involvement in the negotiating process.
Speaking at the news conference, Lavrov said that both Armenia and Azerbaijan are his country's "strategic partners" and that Moscow will carry on with its Karabakh mediation. He also defended the work of the OSCE Minsk Group co-chaired by Russia, the United States and France.
The Russian FM visited Tsitsernakaberd on Monday morning and laid a wreath at the memorial to the Armenian Genocide victims.