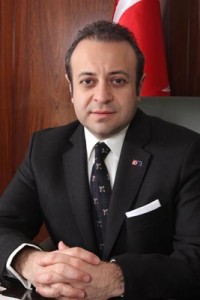 ZURICH (Reuters) – Swiss prosecutors will drop a criminal probe against Turkey's EU affairs minister, instigated after he denied Ottoman Turks committed genocide against Armenians nearly 100 years ago, because he is protected by diplomatic immunity.
Zurich prosecutors began investigating minister Egemen Bagis after comments he made at the World Economic Forum in Davos in January, and also at a concert in Zurich. Swiss anti-racism legislation outlaws genocide denial.
Bagis said that no Armenian Genocide had taken place. "Switzerland is another country where the denial of the, so called, genocide is considered to be a crime. Today in Switzerland I announce that the events of 1915 are not to be considered as genocide. Let them come and arrest me," he stated.
Turkey summoned the Swiss ambassador in Ankara to complain after the investigation was launched.
"After consulting with the Swiss foreign ministry, the prosecutor has concluded that criminal charges against Egemen Bagis cannot be pursued because, as a Turkish EU minister, he enjoyed immunity during his entire stay in Switzerland," the prosecutor said in a statement on Monday.
Swiss authorities have taken legal action against several people who have denied the Armenian genocide. The most prominent case is the conviction of Turkish politician Dogu Perincek, who was fined 3,000 Swiss francs in 2007.