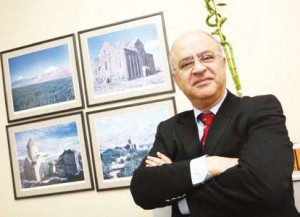 ISTANBUL — A joint enterprise between two Turkish-based tourism companies is planning to organize special package tours from Turkey to Armenia in August, even though the two countries' borders have remained closed since 1993, writes the Turkish Hurriyet Daily News.
The lack of recognition between the two peoples has resulted in reservations about traveling to each other's countries for both Armenians and Turks, according to one company owner.
"Turkish tourists had been traveling to Armenia through Georgia until a couple of years ago, but now the situation has changed," Dikran Altun, the owner of Tower Turizm, recently told the paper.
Altun's Tower Turizm will be partnering with Tüten Turizm to launch the package tours to Armenia, which are made possible by the regular scheduled flights between the two companies.
Altun has managed to sustain continued flights between Turkey and Armenia with a plane he procured from Atlas Jet, a private airliner, in the aftermath of the Nagorno-Karabakh war between Armenia and Azerbaijan at the beginning of the 1990s.
"…Unfortunately our people do not know each other – hence their hesitation to travel," Altun said, adding that Turkish and Armenian tourists set to visit each others' countries for the first time always ask whether it is safe to travel
Fifteen people have already made reservations for the tour, according to Harutyan Demir, one of Tüten Turizm's co-owners.
An all-inclusive package trip will cost between 960 and 1,200 euros.
Passengers predominantly fly from Armenia to Turkey, but increasing numbers of businesspeople, journalists and intellectuals have also been taking the flight from Turkey to Armenia every year, he said. Two flights operate between Istanbul and Yerevan each week, while there are also weekly flights between Yerevan and the Mediterranean Turkish cities of Antalya and Bodrum during the summer season.
"My greatest desire is to see the re-establishment of relations and dialogue between the two countries. It is of great significance for me to see Turkish Airlines starting flights to Yerevan," Altun said.
Hurriyet Daily News photo, Hasan Altininsik