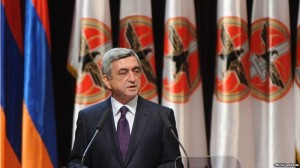 YEREVAN (RFE/RL) — President Serzh Sarkisian effectively kicked off the parliamentary election campaign of his Republican Party (HHK) at the weekend with a pledge to radically "transform" Armenia's political and socioeconomic systems.
In an hour-long speech at a party congress in Yerevan, Sarkisian also insisted that he and the HHK have done a good job of governing the country in the last five years. He at the same time acknowledged widespread public cynicism about the state of affairs there.
"We need changes," he told more than 1,000 congress delegates. "We, all of us together are the ones to implement these changes through the experience and leadership of the Republican Party."
"Let's believe to be able to change us and our country," he said. "Let's change our mentality and attitude toward the state of Armenia. Let's change our behavior on the streets, at the workplace, in the university. Let's change people who are not in their right place. Let's change laws if they are far from being perfect. Let's change the culture of internal political struggle."
Sarkisian claimed that his political team has already effected positive changes in Armenia since winning the last parliamentary elections in 2007. "For five years running, we have bolstered our statehood, enhanced its defense capacity and level of flexibility," he said. "And that is true for all main policy areas."
The president spent a considerable part of his speech defending his administration's economic track record against relentless opposition criticism. Citing official economic data, he argued that Armenia's GDP per capita and average monthly wage have soared by more than 60 percent since 2006 despite the 2008-2009 global recession that hit the Armenian economy hard. The Armenian government has also significantly improved tax collection and the investment climate in the country, he said.
Sarkisian went on to claim that government policies have enabled businesses to not only recreate thousands jobs lost in the recession but also hire another 18,000 people. But he made no mention of the official poverty rate which rose from about 24 percent in 2008 to 36 percent in 2010. A government survey released last year suggested that more than 40 percent of Armenian children live below the official poverty line.
"We need economic development as much as economic growth, probably even more," continued Sarkisian. "Economic growth will not solve our problems if it is not based on the creation of the new areas of economy, new types of activities, new enterprises, production of new goods and services." That, he said, requires "changes and modernization in the governance and administration mechanisms."
In that regard, Sarkisian deplored the domestic "atmosphere of pessimism and despair," saying that the situation in the country is much better than many Armenians think. "Who gave us the right to discredit our country and castigate ourselves?" he said.
Predictably, opposition representatives brushed aside Sarkisian's pre-election statements on Monday. "This was an absolutely empty speech," said Levon Zurabian of the main opposition Armenian National Congress (HAK). "Their slogan is especially pathetic. This is the first case in the history of humankind where authorities who have been in power for four years call for change."
"They are the ones who have rigged elections, built this corrupt and kleptocratic system, destroyed popular faith in morality and made embezzlement of public resources the norm," Zurabian told RFE/RL's Armenian service (Azatutyun.am) "It's amazing that they are now trying to teach us lessons of morality."
The HHK congress, which unanimously reelected Sarkisian as party chairman, came less than a month before the official start of campaigning for the May 6 parliamentary elections. HHK representatives made clear earlier this year that the ruling party intends to win the vote by a landslide and at the same time ensure its proper conduct. The HAK and other opposition groups portray this as further proof that the authorities are planning massive vote rigging.
Sarkisian slammed the opposition allegations in his speech. "We must hold good elections regardless of the fact that some are now not preparing for the elections but developing the technical capacity to portray them as falsified," he said.