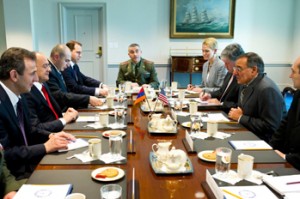 WASHINGTON, DC — U.S. Secretary of Defense Leon Panetta has met with Armenian Defense Minister Seyran Ohanian at the Pentagon for talks highlighting growing military ties between the United States and Armenia.
In a statement, Pentagon Press Secretary George Little said the leaders discussed late on Friday regional security issues and bilateral defense cooperation, including "Armenia's efforts on defense reform and U.S. willingness to support enhanced training of the Armenian military."
Panetta also expressed appreciation for Yerevan's "strong contributions" to the NATO-led mission in Afghanistan and to the NATO-led peacekeeping force in Kosovo. Ohanian expressed the readiness of Armenian peacekeeping forces to continue with their mission in international coalition operations.
Ohanian began his visit to the United States on Wednesday with a trip to the state of Kansas. He met with Kansas Governor Sam Brownback and other state officials to discuss a nearly decade-long cooperation between the Kansas National Guard and Armenia's Armed Forces and law-enforcement agencies.
The visit underscored Armenia's increased defense cooperation with the U.S. within both bilateral and NATO frameworks. The U.S. and Armenian militaries are expected to hold next month first-ever joint exercises aimed at improving the interoperability of their forces deployed in Afghanistan. A top official from the U.S. European Command discussed preparations for the exercises with Ohanian during a visit to Yerevan last month.