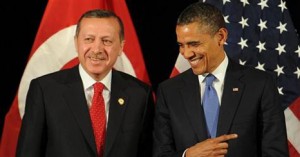 SEOUL, SOUTH KOREA — US President Barack Obama and Turkish Prime Minister Recep Tayip Erdogan held a meeting on Sunday, on the sidelines of the South Korea-hosted Nuclear Security Summit, to discuss among other things, the Armenian Genocide resolution and the Nagorno-Karabakh conflict.
Erdogan has suggested to Obama that Turkey and the OSCE Minsk Group join efforts in solving the long-standing Karabakh conflict. Erdogan also expressed Turkey's discontent over the new resolution in the U.S. Congress regarding the Armenian Genocide.
"I reminded Obama that during the past two decades the OSCE Minsk Group has not succeeded in settling the conflict between Armenia and Azerbaijan. And since the issue has reached a deadlock, I suggested that we talk to Azeris and Minsk Group co-chairing France, Russia and the United States try to persuade Armenia, so that they can solve the issue," said Erdogan, as quoted by the Turkish Sabah newspaper.
"I told Obama that we are tired. Every year in April we face the same problem, whether Republicans come [to power] or Democrats, the issue remains the same. I showed him the steps we had taken, brought Akhtamar as an example," said Erdogan, referring to the reconstruction of the medieval Armenian church in the Van lake island of Akhtamar in 2010, and the permission to Armenian Christians to hold liturgies there once a year.
The Turkish premier called on Obama "not to mistake U.S. senators, lawmakers and politicians for historians".