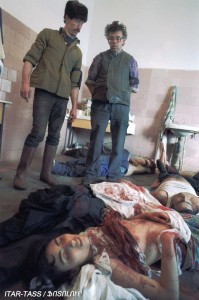 January 13, 1990 was the day the Azerbaijani nationalist mobs dramatically escalated a wave of violent pogroms and deadly attacks against the Armenian population in Baku, Azerbaijan's capital. While tens of thousands of nationalists gathered in the city's central square, a numbers groups numbering dozens and hundreds each – egged on by agitators – broke off and conducted methodical, house-by-house attacks against ethnic Armenians remaining in the city.
Soviet and Western media published eyewitness reports of the atrocities bringing blood-chilling details of murders of hundreds of helpless civilians. No proper investigation of the violence was ever conducted and the exact number of victims is still unknown. Human rights groups, including the Human Rights Watch, stressed the organized character and the sophisticated cruelty of the anti-Armenian pogroms in Baku, hundreds of miles away from the Karabakh conflict area. "Most of the deaths were caused by beatings and knife wounds; … The action was not entirely (or perhaps not at all) spontaneous, as the attackers had lists of Armenians and their addresses", the organization reported.
The Soviet leadership remained largely silent for days after the first reports about the killings. Forces were dispatched into Baku a week later, when the bloodbath and chaos in the city threatened Soviet authority.
Armenian pogroms in Sumgait, Kirovabad, Baku and elsewhere around Azerbaijan and the full-scale military aggression against the Nagorno Karabakh Republic that followed demonstrated the level of intolerance and anti-Armenian sentiment among the Azerbaijani leadership and society.
22 years after the tragic events in Baku, the organizers and perpetrators of that crime, though some are publicly known, remain unpunished.