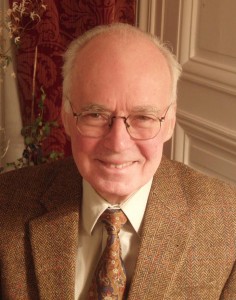 LOS ANGELES — The Friends of the UCLA Armenian Language and Culture Studies is presenting an illustrated lecture by acclaimed art historian Thomas Mathews on a lavish Gospel book commissioned by King Gagik of Kars now in the possession of the Armenian Patriarchate of Jerusalem. The event to be held on Sunday, February 19 at the Glendale Public Library and will commence at 3:30 p.m.
Twice the size of Byzantine luxury works, this exquisite manuscript with an unparalleled set of 227 illuminations of the Life of Christ, arguably the most ambitious illuminated Gospel book of the entire Middle Ages, was commissioned by Gagik, the last Bagratuni king of Kars in the years before the Seljuk forces overran the state. In his lecture entitled "The Mystery of the Gospel of the King Gagik of Kars" Prof. Mathews will share the fruits of his new research project, clarifying some of the many uncertainties surrounding this fascinating work. When was it created? How do we interpret the profound spiritual meaning of the illuminated scenes? What is the meaning of unique portrait of King Gagik's daughter Marem? What was the manuscript's impact on later Cilician illumination? How did the manuscript migrate to Jerusalem and what has been its more recent history there?
Thomas F. Mathews is John Langeloth Loeb Professor of History of Art Emeritus at New York University's Institute of Fine Arts and is currently visiting California as a Distinguished Visiting Scholar at the UCLA Center for Medieval and Renaissance Studies. This is a sort of homecoming for the scholar, who served as a professor in the UCLA Art History department earlier in his career before continuing at NYU for three decades with great renown. An acknowledged expert in his field of Early Christian and Medieval religious art with a specialty in Armenian church architecture and manuscript illumination, Mathews has held many prestigious fellowships and honors (e.g. Guggenheim, National Endowment for the Humanities, Kress, Paul Getty Museum). Most recently he was invited to deliver the plenary lecture on medieval Armenian culture at the triennial meeting of the International Association of Armenian Studies at Budapest in October, 2011. The prolific author of thirteen monographs and numerous articles, he continues to be actively engaged in groundbreaking research. Together with the late Professor AvedisSanjian, he published an innovative study of UCLA's Gladzor Gospel of the early 13th century and acted as guest curator of the manuscript's exhibition at the Getty Museum in 2001. Earlier he curated a magnificent exhibition spanning the whole medieval Armenian tradition of manuscript illumination under the title "Treasures in Heaven" at the Pierpoint Morgan Library, New York, with accompanying catalogue and collected essays.
The lecture will be illustrated by a powerpoint presentation. Glendale Public Library (222 E. Harvard St., Glendale CA 91205). For further information, contact us at (310) 275-2767 or (818) 952-1058.