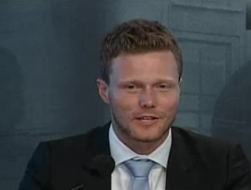 YEREVAN — Highly enriched uranium has been lost in the region, and US specialists are looking for it in Armenia, among others, Matthew Kroenig, Assistant Professor in the Department of Government at Georgetown University, special advisor to the US Department of Defense said in a lecture at the American University of Armenia. 
"It's very difficult to make highly enriched uranium. It's the most difficult part of developing nuclear weapons. When you have enriched uranium, making it into weapon is very easy. If you look at the case of Iran, it started its enrichment program in 1987. Twenty-five years later Iran's enrichment program is improving, but they have not mastered it yet. That goes to show how difficult it is to enrich uranium," Professor Kroenig said. 
He warns that highly enriched uranium has been lost somewhere in the South Caucasus. The United States supposes that it has been taken out of some factory in the south of Russia because of weakening of security after the collapse of the Soviet Union. 
"Armenia doesn't have nuclear weapons. It is very hard to hide a uranium enrichment facility. Iran has tried twice to hide a uranium enrichment facility in the past ten years, but the international community has been able to discover it. We think that what might have happened is that there is a facility in southern Russia that has highly enriched uranium, and after the collapse of the Soviet Union there was a time, where there was very little security at the site. So, we're note sure it's speculation, but given the fact that there have been a number of smugglers coming near Armenia, the uranium could have been stolen and hidden in Armenia or somewhere else in this region," he said. 
Professor Kroenig has been studying the issue of proliferation of nuclear weapons for years, and has come to the conclusion that states sell nuclear weapon out of strategic rather than economic interests. He does not rule out that terrorist organization might also wish to purchase nuclear weapons, and it's worrisome. 
Professor Kroenig underlines that atomic energy is preferable to avoid global warming. It's also very clear and is exempt of dangerous emissions. However, to use it for peaceful purposes, states have to purchase enriched uranium instead of developing it themselves. This is considered to be secure and controllable, the Professor said.