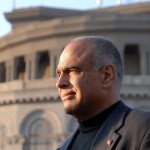 YEREVAN — Opposition Zharangutyun (Heritage) party leader Raffi Hovannisian on Monday challenged President Serzh Sarkisian to prove his stated commitment to democratic elections by enacting more radical changes to electoral legislation and guaranteeing non-use of government resources by his Republican Party (HHK).
Sarkisian has pledged to "spare no effort" to ensure that parliamentary elections due in May are widely recognized as free and fair. Visiting Brussels earlier this month, his prime minister, Tigran Sarkisian (no relation), said the vote will the most democratic in the country's history.
In a letter to Sarkisian, Hovannisian listed 15 concrete measures which he said would demonstrate the seriousness of these pledges. In particular, he said, election commissions must be required to ink voters' fingers and publicize lists of citizens who cast their ballots.
Such safeguards are also strongly advocated by Armenia's other major opposition forces
Opposition leaders say this would preclude multiple voting as well as fraudulent voting on behalf of hundreds of thousands of Armenians that are absent from the country but remain on the national vote registers.
The pro-government majority in the Armenian parliament blocked corresponding amendments to the Election Code drafted by the opposition earlier this year. It has also been against the opposition idea, also mentioned by Hovannisian, of abolishing parliamentary elections held in single-mandate constituencies.
In his letter, Hovannisian said Sarkisian must rule out any use of government funds and properties by the Republican party and guarantee that central and local government officials, civil servants and other public sector employees will no longer be under pressure to contribute to the ruling party's electoral victory at any cost.
He said the Armenian authorities should also prevent any "coordinated actions" by the HHK and law-enforcement bodies during the elections and ensure "equal access" to broadcast media by all election contenders. In addition, added Hovannisian, the heads of state universities, schools and other educational institutions (many of them HHK members) must be told to end their party affiliations.