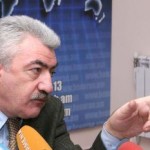 YEREVAN. – On the initiative of the National Archives of Armenia eyewitness accounts of the 1915 Armenian Genocide in Ottoman Empire will be published by 2015 in Vshtapatum three-volume edition, said the director of the National Archive of Armenia Amatuni Virabian to a press conference on Tuesday.
According to Virabian, each volume of Vshtapatum will have 500 pages.
"The first volume is ready and is currently being translated into Russian and English. The second volume is being prepared for publishing. The first volume is devoted to the province of Van, the second – to the province of Bitlis, the third – to the province of Erzurum (Karin)."
The books will be published on the donations of benefactors. The edition of the publication remains yet uncertain, however it will exceed several thousands.
The edition is called Vshtapatum being the continuation of a project initiated back in 1916, when Armenian writer Hovhannes Tumanain formed a commission to collect testimonies of Genocide survivors. These documents have been archived in Armenia but never used in historiography.
Virabian is hopeful that Vshtapatum will greatly contribute to the recognition of the Armenian Genocide in the world.