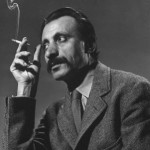 NEW YORK — An untitled canvas by the 20th century renowned American-Armenian artist, Arshil Gorky, has sold at the Christie's Auction house for $902,500.
The preliminary price of the painting was reportedly $600,000.
Arshil Gorky was born in the early 1900s (some time between 1902-05) in the village of Khorgom, situated on the shores of Lake Van. In 1910 his father emigrated to America to avoid the draft, leaving his family behind in the town of Van. In 1922, Gorky enrolled in the New School of Design in Boston, eventually becoming a part-time instructor.
Gorky had a seminal influence on Abstract Expressionism. As such, his works were often speculated to have been informed by the suffering and loss he experienced of the Armenian genocide.
His paintings are kept in prominent museums across the United States including the National Gallery of Art, the Museum of Modern Art, the Art Institute of Chicago, the Metropolitan and the Whitney Museum of American Art in New York (which maintains the Gorky Archive), and in many worldwide, including the Tate in London. (Whitney Museum, Metropolitan Museum etc).