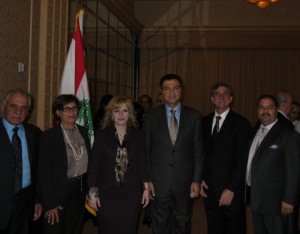 On Saturday, November 22, 2011 the Consulate General of Lebanon in Los Angeles held a reception celebrating the 68th anniversary of Lebanon's independence at the Beverly Hills Hilton. Over 500 Lebanese Americans, as well as various diplomatic and political groups throughout the Southern California attended the celebrations. Among the attendees was a delegation representing the S.D. Hunchakian party Executive Committee of the Western United States.
Lebanon received its independence after French troops arrested Lebanese national leaders Beshara al-Khoury, Riad al-Solh, Pierre Gemayel, Camille Chamoun, and Adel Osseiran in Rashaya. After national and international pressure, the prisoners were released on November 22, 1943 and that day was declared the Lebanese Independence Day.
Armenian's have a special kindred for the State of Lebanon, The Armenian presence in Lebanon can be traced back for centuries. Currently it is estimated that there are approximately 150,000 Armenians in Lebanon, or around 4% of the population. Within the Lebanese Parliament, Lebanon's ethnic Armenian population maintains six seats; four Armenian Parliamentarians; three SD Hunchakian Party parliamentarians along with the ADL (Ramgavar) parliamentarian constitute the Armenian Reconciliation Bloc, the two remaining Armenian parliamentarians are affiliated with the ARF (Tashnak) party.