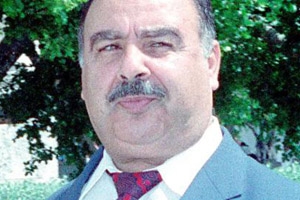 Hailed as the one of the largest arms dealers in the second half of the 20th century, remembered as a benefactor of the Armenian people and ally of the United States government, Sarkis Garabet Soghanalian died on Oct. 5 at the age of 82 in a hospital near his Miami, Florida home.
Sarkis Garabet Soghanalian was born in what used to be Iskenderun, Syria, now a part of Turkey. Fearing persecution, his family moved to Beirut's "Nor Hadjen" Armenian quarter where Soghanalian joined the French military during World War II and worked to support his family after his father's passing. He met and married Shirley Adams in Beirut, Lebanon in 1958. They made their home in Binghamton, New York and later returned to Beirut, Lebanon. He has lived in the Miami, Florida area off and on for the past 30 plus years.
Soghanalian, although inaccurately dubbed "merchant of death" by American news media, (which he vehemently rejected) worked closely with the CIA and FBI in aiding U.S. allies with arms.
Mr. Soghanalian was fluent in English, French, Armenian, Turkish and Arabic and "could make himself understood" in Spanish and Italian recalled his son Garo. "All the way back to the '60s and '70s, his goal was to help the United States. There was a deep-seated root of patriotism that often gets overlooked."
His efforts to defend his fellow Armenian compatriots did not end in the mid 1970's during the Lebanese civil war where he provided arms to defend the Armenian quarters of Beirut. For the 100th anniversary of the Social Democrat Hunchakian Party, Mr. Soghanalian pledged a contribution of one million dollars to the party's philanthropic organizations to be dispersed throughout the Diaspora, yet that same year the Spitak region of Armenia witnessed a magnitude 6.9 earthquake followed by another earthquake four minutes later, measuring 5.8 on Richter scale; the entire region was destroyed and 25,000 souls were lost. Mr. Soghanalian, along with the SDHP party leadership felt it more prudent that the entire donation be utilized for the international relief efforts in Armenia, providing 26 cargo airplanes carrying aid and supplies for 750,000 left without homes due to the devastation of the massive earthquake. In January 1989, when Soghanalian visited ravaged Armenia, he was decorated by the nation's political and religious leaders.
Mr. Soghanalian continued to generously donate to various Armenian and Non-Armenian philanthropic causes throughout the world, including the Armenian Athletic Association (Homenmen) Chapters worldwide and numerous Armenian Educational Benevolent Union chapters, schools and medical dispensaries.
In a statement, President George H.W. Bush expressed that Mr. Soghanalian "strengthened the ties that unite mankind" and Mother Teresa wrote that God would reward the good-will of Soghanalian and his family "a hundredfold." In an interview with PBS Mr. Soghanalian proudly stated "I helped my country Armenia when they needed me. That's all I can say." Today, the Soghanalian name is proudly displayed at the Armenian Educational Benevolent Union's Hall in Southern California.
Soghanalian is survived by his two children, Melo (Gary) Hansen and Garo Soghanalian, three grandchildren and four great grandchildren. He is also survived by his sister, Anahis Hartz of Chicago, Illinois and his brother, Zaven Soghanalian of Binghamton, New York, three nieces and one nephew. Funeral services will take place on Saturday, October 15, 2011 at 1:00 pm at the church located at 12154 South 3600 West, Riverton, Utah.