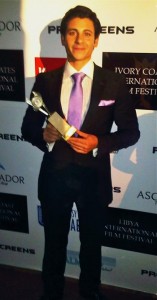 By Kin Abrin
Garen Boyajian recently returned from London with his second major acting award in tow. He earned the coveted "Best Actor in a Supporting Role" award for his affecting role as Jamal in the controversial and much talked about film, THREE VEILS. Garen reflects on his humbling experience in England, "earning the nomination was exciting news. Once I read the list of fellow nominees, I truthfully didn't expect to win."
The International Filmmakers Festival was held October 14-15 and screened over 30 films from around the world. This prestigious film festival was established with a mission of selecting and presenting the next generation of exceptional film talent to the world. A full list of nominees and award recipients may be found on the official festival website.
Garen has also earned the "Best Actor in a Leading Role" award in 2008 at the Monaco International Film Festival. Up next, he can be seen in the Disney blockbuster BEVERLY HILLS CHIHUAHUA 3, while presently preparing to film an untitled psychological thriller movie sometime early 2012.
THREE VEILS was recently awarded the "Best Picture" award at the Arpa International Film Festival and will be screening at the Arab Film Festival and Chinese Film Festival. Garen is expected to be in attendance at both Los Angeles screenings.