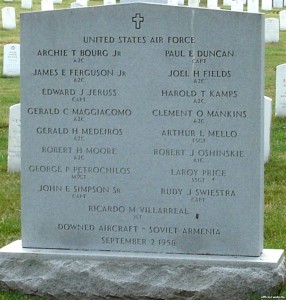 YEREVAN — On September 2, Major General Mark Zamzow, the Vice Commander of the 3rd Air Force at Ramstein Air Base, and the U.S. Embassy Office of Defense Cooperation joined Deputy Defense Minister of Armenia Davit Tonoian, Sasnahen Mayor Andranik Shomian, and Sasnashen residents to commemorate the 54rd anniversary of the downing of a U.S. C-130 airplane on Armenian soil. The event was held at the C-130 memorial in Sasnashen, located on a rocky outcrop overlooking the plane crash site. the reconnaissance plane with 17-member crew on board was shot down by Soviet fighter jets.
The C-130 Hercules aircraft was downed while flying a reconnaissance mission near Soviet Armenia's border on September 2, 1958. According to the U.S. military, it was attacked by MiG jets after straying into Soviet airspace. All 17 crewmen on board the plane were killed.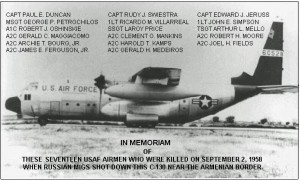 According to the U.S. Embassy in Yerevan, Sasnashen residents have for decades commemorated this date as they believe the crew maneuvered the aircraft to avoid the village and thus saved locals' lives. They erected a memorial at the nearby crash site in September 1993, less than two years after the break-up of the Soviet Union.
"I was deeply touched when I heard that the citizens of Sasnashen still remember this event, and have conducted a memorial remembrance every year since 1958 to commemorate the aircrew that died that day," an embassy statement quoted Zamzow as saying at the commemoration ceremony.
"The manner in which you conduct this ceremony, and the way in which you maintain this memorial, speaks volumes for your strength as a community," he told the villagers.
Zamzow also paid tribute to the U.S. airmen's "final act of bravery," saying that they spared civilian lives as the C-130 crashed to the ground.
The Soviet Union returned the partial remains of six of the crewmen later in 1958. It was not until 1993 that a U.S. Army team went to the site of the crash and recovered the rest of the remains, including more than 2,000 bone and tooth fragments, life support equipment, personal effects and aircraft wreckage.
The remains were interred in a single grave in the Arlington National Cemetery in 1998.
More personal effects of the dead servicemen were returned to U.S. officials during Friday's commemoration. Some of their relatives also attended it.
In what appears to be a gesture of gratitude, the U.S. Department of Defense has financed infrastructure upgrades in and around Sasnashen in recent years. Zamzow inaugurated on Friday a newly renovated kindergarten in the village and a policlinic in the nearby town of Talin.