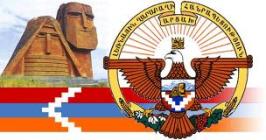 STEPANAKERT — The Nagorno Karabakh Republic is celebrating is 20th anniversary of independence. The festivities kicked off on Thursday in Stepanakert, attended by a delegation from Armenia, headed by President Serzh Sarkisian, as well as by many guest from different countries, including Catholicos Karekin II, the supreme head of the Armenian Apostolic Church, and Karabakh's entire political leadership.
On Thursday, President Bako Sahakian, of Karabakh, handed awards to military personnel and other local residents Fridays events kicked-off with thousands gathered in the main town square and marched to a monument to the victims of the 1991-1994 war with Azerbaijan.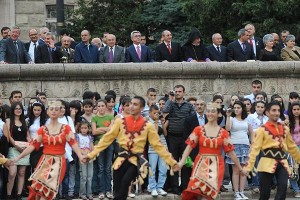 Sarkisian attended and delivered a speech at the ceremony.
"Tomorrow is a blissful day not only for Artsakh (Karabakh) but for the entire Armenian nation," he said. "It's a holiday of human and national liberty, it's a holiday of human and national dignity, it's a holiday of restoration for once abused human rights, it's a holiday of victory for historic justice."
"Once Artsakh was Armenian pain, today it is Armenian pride," he added. "The Republic of Nagorno-Karabakh is an established state with all essential structures."
Sarkisian contended that the region's population would have "perished" had it not defeated, with Armenia's substantial help, the Azerbaijani army. "We chose life, and today we celebrate the victory of life over death," he said.