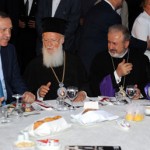 ISTANBUL — The Turkish government is to return properties confiscated from Armenian and other religious minorities since 1936, in a step seen addressing European Union concerns about the treatment of minorities in the EU candidate country. The decision includes hospitals, schools, cemeteries, churches, stores, houses and even nightclubs.
According to a decree published in Turkey's Official Gazette at the weekend, property taken away from minority religious foundations under a 1936 declaration will be returned to them.
The decision was announced ahead of a dinner to break the Ramadan fast that Prime Minister Tayyip Erdogan attended with representatives of the Christian and Jewish communities in Istanbul on Sunday evening.
Under the new decree, the minority properties that were claimed in the 1936 proclamation but had been registered as public or foundation property will be returned to their rightful owners.
According to information obtained from the General Directorate of Foundations, minority groups gave the government a proclamation in 1936 detailing their immovable property. However, over the years, these properties were not registered under the minority foundations' names, and some were even sold to third parties.
In the case of minority groups' properties that were sold to third parties, the religious foundations will be paid the market value of the properties by the Treasury.
Turkey confiscated billions of dollars worth of property belonging to Armenian and Greek foundations when they fell into disuse. The European Court of Human Rights ruled that these seizures were illegal.
Most of Turkey's Christians fled in the upheaval of World War One and the ensuing War of Independence. Hundreds of thousands of Armenians were massacred in a genocidal campaign and 1.5 million Greeks deported in a population exchange.
There are now around 100,000 Christians of different denominations and some 25,000 Jews among Turkey's overwhelmingly Muslim population of 74 million. There is a dwindling community of around 2,500 Greeks in Istanbul, capital of the Greek Orthodox Byzantine Empire until the Ottoman conquest of 1453.
Some 60,000 Armenians and 15,000 Syriac Orthodox also live in Turkey, along with several other smaller religious minorities.
A treaty with Western powers in 1923 allowed Istanbul's non-Muslim communities to retain special education and property rights.