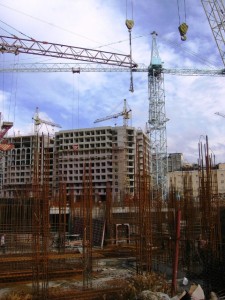 EREVAN – August 31, 2011 – Armenian architects and environmentalists are demanding the government engage stakeholders in public hearings on the construction of a hotel in the central part of Yerevan, Karine Danielyan, Chair of the Sustainable Human Development Association, said Wednesday at a news conference.
On August 18, the Armenian government granted its consent to the city mayor for construction of this hotel. Danielyan emphasized the necessity to get public support before making this decision.
"We have successful experience of cooperation with the government," she said. "I think the government has been deluded and misinformed."
She is convinced that this construction will negatively affect either environment or architecture of the central part of Armenia's capital, which has no space for new buildings.
Danielyan said that she has composed the list of the hotels located in the centre of the capital and gave it to Karen Karapetyan, the city mayor.
There are 17 hotels in this area and other tree hotels are in the designing process now. "However, our request to the municipality has produced no results," Danielyan said.
Architect Gagik Sukhudyan, on his side, voiced concern over heavy traffic and said a new hotel would aggravate the situation. Besides, he views this project as an urban planning mistake. It was decided to provide 5,853 square meters near the Republic Square subway station to the mayor without tender.