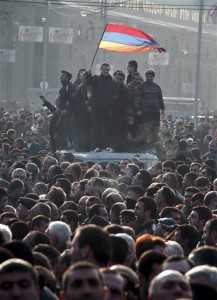 In letter to the US State Department, dated Apr. 9, 2008, then US Embassy in Armenia Charge d'Affaires Joseph Pennington described the situation, the state of emergency, and official (and unofficial) death toll of those killed in the Mar. 1–2, 2008 clashes in Yerevan between protestors and law enforcement officials.
"It's probably safe to say that neither the Armenian public nor the international community will ever know the full truth behind the bloody March 1–2 clashes. Regardless of the authorities' and opposition's competing versions of events, their disturbing nature alone raises concerns about the way the GOAM [Government of Armenian] responded to the crisis, and how it continues to publicly account — or not — for the drastic, lethal measures it took.
"Until the authorities provide an independent, transparent explanation to Armenia's citizenry describing what really transpired in the dark hours of March 1–2, the infamy of the events will dog the ruling regime and risk undermining its legitimacy," wrote Pennington in the US cable released by Wikileaks on Aug. 26, 2011.