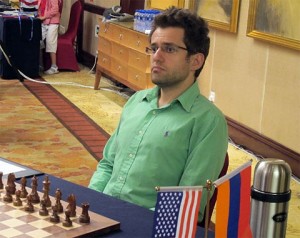 NINGBO, CHINA — The second round of the World Team championship, brought two very surprising results, potentially skewering the predictions of the pundits. The first was Ukraine's loss to the home team, China. The second was the US's surprising draw against Armenia. The US team, who are playing without Nakamura, and had lost to the Russians in the previous round certainly didn't seem like they would be their kryptonite, yet that is exactly what happened. On board one, it is precisely Aronian who stumbled against a Kamsky who has been climbing his way back into the elite that allowed the US to hold the Armenians to a 2-2 draw. Yasser Seirawan, who broke a very long fast from competitive chess in the recent US championship, showed his spot on the team was deserved as he held higher-rated Sargissian (2663) to a draw.
The Russians scored their second consecutive win with an impressive 3-1 score over Hungary.
India had a steep cliff to climb, and were unable to produce a statistical surprise against Azerbaidjan. Mamedyarov and Radjabov both won their games convincingly.
After loosing in the first round to Armenia 0.5-3.5 Israel bounced back in the second round beating Egypt 3-1.
Results of round two
Russia 3-1 Hungary
Azerbaijan 3-1 India
Ukraine 1.5-2.5 China
Israel 3-1 Egypt
USA 2-2 Armenia
Rank table
1 Russia 6.0
2 Armenia 5.5
3 Azerbaijan 5.0
4 China 4.5
5 Ukraine 4.0
6 Israel 3.5
7 India 3.0
8 Hungary 3.0
9 USA 3.0
10 Egypt 2.5