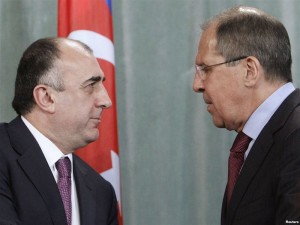 MOSCOW — Azerbaijan on Monday officially responded to Russian President Dmitry Medvedev's proposals aimed at salvaging the Nagorno-Karabakh peace process.
Azerbaijani Foreign Minister Elmar Mammadyarov handed a corresponding letter from President Ilham Aliyev to his Russian counterpart Sergei Lavrov during their meeting in Moscow. Neither minister disclosed the letter's content at a joint news conference held after the talks.
Medvedev made those unpublicized proposals after failing to broker an Armenian-Azerbaijani framework agreement at the last Aliyev-Sarkisian meeting which was hosted by him in the Russian city of Kazan late last month.
"We have no doubts that the Nagorno-Karabakh settlement is one of the priorities of the regional agenda … We will continue our efforts in that direction," said Lavrov.
Lavrov told reporters that the conflicting sides continue to disagree on some of the proposed basic principles. He said there are "not many" remaining sticking points but they are of "pivotal importance."
Aliyev last week signaled Baku's dissatisfaction with some of the peace proposals made by the mediators over the past year. "Sometimes these proposals changed the essence and the basic principles of negotiations, which we have conducted for the last seven years," he said.
Speaking in Moscow, Mammadyarov again suggested that the parties start working on a comprehensive Armenian-Azerbaijani peace accord before reaching agreement on the basic principles. "I think that we should start discussing a legally binding document such as the peace treaty," he said. "The time is ripe for that."
Official Yerevan has yet to formulate its position on the way out of the impasse proposed by Moscow.