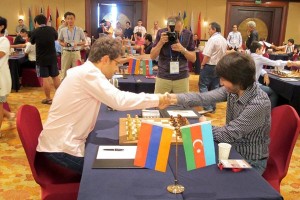 NINGBO, CHINA — Armenia and Azerbaijan played a 2.0 – 2.0 draw in Round 8 of the 2011 World Team Chess Championships.
Levon Aronian and Sergey Movsesian drew their games against Teimur Radjabov and Vugar Gashimov respectively. Gabriel Sargsyan lost to Shakhriyar Mamedyarov, but in a dramatic victory, Baku-born Vladimir Akopian beat Rauf Mamedov.
This result leaves Armenia in a good position to take the overall victory. With 13 points after eight rounds the team is two points clear of second-placed Ukraine. The two teams play in the ninth and final round scheduled for Tuesday, with Armenia needing a draw to claim the trophy.
On Sunday, in round seven, Armenia scored a 2.5 – 1.5 victory over Hungary to continue its unbeaten run for the title.
Results of round seven
China 2.5 – 1.5 Russia
India 2.5 – 1.5 Egypt
Hungary 1.5 – 2.5 Armenia
Azerbaijan 1.5 – 2.5 USA
Ukraine 2.5 – 1.5 Israel
Results of round eight
Russia 4.0 – 0.0 Israel
USA 1.5 – 2.5 Ukraine
Armenia 2.0 – 2.0 Azerbaijan
Egypt 1.0 – 3.0 Hungary
China 3.0 – 1.0 India
Rank table Match Points Points
1 Armenia 13 20.5
2 China 11 20.0
3 Ukraine 11 17.5
4 Russia 10 19.5
5 Hungary 10 18.0
6 USA 8 16.0
7 Azerbaijan 7 16.5
8 India 5 13.0
9 Israel 5 11.5
10 Egypt 0 7.5