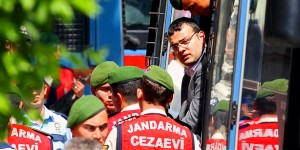 ISTANBUL — Ogün Samast, the hitman in the murder of Armenian-Turkish journalist Hrant Dink was sentenced to 23 years in prison on Monday after being convicted for the killing in Istanbul in 2007.
Samast 21, was tried in juvenile court in Turkey and initially handed a life sentence, but then reduced it because he was a minor at the time of the crime committed in broad daylight.
Ever since his arrest in January 2007, Samast has admitted shooting and killing Dink outside the Istanbul offices of the latter's bilingual newspaper "Agos."
In his final testimony to the court, Samast called for his acquittal and blamed certain newspapers and columnists, saying what he had read in those papers had incited him to commit the crime. "How else would I have known about Hrant Dink or Agos if they had not written about them," he told the court.
Dink was hated by hardline Turkish nationalists for openly describing the 1915 mass killings and deportations of Armenians in the Ottoman Empire as genocide. Six months before his death, he was given a suspended six-month sentence for "insulting Turkishness" in an article on what remains a highly sensitive subject in Turkey.
Dink's murder sent shockwaves through Turkey and Armenia and caused strong international condemnation. In an unprecedented outpouring of sympathy, tens of thousands of Turks took part in his funeral.
Samast will continue to stand trial, along with 18 other suspects, on separate charges belonging to a terrorist organization. He is facing an additional sentence of a maximum 16 years in prison.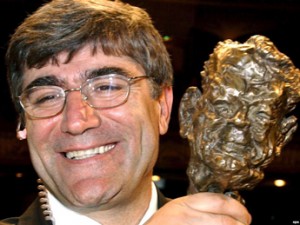 Fethiye Cetin, a lawyer for Dink's family, expressed satisfaction with the first verdict in the closely watched case. "The court imposed a sentence that is close to the heaviest possible punishment," Cetin told reporters.
"The sentence is very important in terms of preventing the repetition of such acts that threaten our co-habitation," she said, according to AFP.
Eyten Mahcupyan, a Turkish-Armenian columnist who took over editorship of "Agos" after Dink's death, also praised the court for opting for a severe jail term. "The court was courageous enough to go with the evidence, and not go down an ideological path in terms of nationalism," Mahcupyan, who is now a columnist for pro-government "Zaman" newspaper, told Reuters.
The Dink family's legal team has been very critical of the criminal investigation into the killling conducted by Turkish law-enforcement authorities. It has accused police of withholding and destroying evidence to cover up the murder, including footage from a bank security camera in the street where the journalist was gunned down.
Turkish prosecutors say police received intelligence as early as 2006 of a plot to kill Dink being organized in the Black Sea port of Trabzon, home to Samast and several other defendants. A Turkish court convicted and sentenced two security officers to six months in prison on corresponding charges in June. Four other officials were each given four-month sentences also for neglecting their duties.
The European Court of Human Rights ruled last year that the Turkish authorities failed to take adequate measures to protect Dink. It ordered them to pay 100,000 euros ($142,000) to the slain editor's family in compensation.