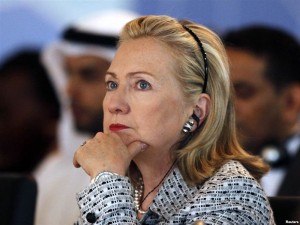 ANKARA — U.S. Secretary of State Hillary Clinton pressed Turkey to unconditionally comply with its normalization agreements with Armenia during a weekend trip to Istanbul.
A senior State Department official said Turkish-Armenian relations were on the agenda of her talks with Turkish President Abdullah Gul, Prime Minister Recep Tayyip Erdogan and Foreign Minister Ahmet Davutoglu.
"She encouraged Turkey to support and move the [Turkish-Armenian] protocols, which have been stuck in the Turkish parliament, but more generally to reach out to Armenia with confidence-building measures and do whatever possible to strengthen that relationship, leading ultimately to restored diplomatic ties," the official told journalists.
The two protocols were signed, in Clinton's presence, by the Turkish and Armenian foreign ministers in Zurich in October 2009. They committed the two neighboring nations to establish diplomatic relation and open the Turkish-Armenian border which Ankara closed in 1993 in a show of support for Azerbaijan.
The Turkish government has repeatedly made clear that it will not ensure the protocols' ratification by Turkey's parliament before a resolution of the Nagorno-Karabakh conflict acceptable to Baku.
During her visit, Clinton held a meeting with Kemal Kilicdaroglu, Chairman of the opposition Republican People's Party (RPP).
The Hurriyet daily reports that among the issues on the meeting agenda was also the establishment of Armenian-Turkish relations. The U.S. Secretary of State accused the Turkish Opposition of impeding Armenian-Turkish reconciliation, which proved a surprise for the RPP leader.
Hillary Clinton stated that during her meetings with Turkish government officials she asked them about the reasons why the Armenian-Turkish protocols are not put on the Parliament's agenda. Their answer was that the RPP objects to the protocols. This is the reason why the documents are not submitted to Parliament for ratification.
In his turn, the RPP chairman expressed his surprise at Mrs. Clinton's statement. He said that the ruling party Justice and Development, which is led by Turkish Premier Recep Erdogan, constitutes parliamentary majority and, if it wishes, it can submit the protocols to Parliament for ratification. "However, the Government does not provide us with any information on the topic. We even knew about the contents of the protocols from the press. Not only in the case of the Armenian-Turkish protocols, but also in many foreign and domestic policy issues the authorities prefer not providing information," Kilicdaroglu said.