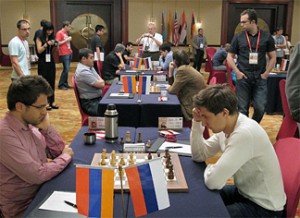 NINGBO, CHINA — The Armenian team ended the match with Russian team in draw (2:2) in the 3rd round of the World Team Chess Championship 2011 in Ningbo, China.
Alexander Grischuk-Sergey Movsisyan and Vladimir Hakobyan-Ian Nepomniachtchi games ended in draw. Gabriel Sargsyan lost to Peter Svidler. Levon Aronian defeated Sergey Karjakin playing black in a bitter struggle lasting for more than 5 hours.
While the Americans managed a crushing 3.5-0.5 victory over Egypt, and Ukraine edged out India, the next biggest result was Israel's tournament comeback at the expense of the home team China.
In a tough match between Azerbaijan and Hungary, Judit Polgar was the hero of the round by overcoming Mamedov in a Sicilian Maroczy, and securing the win for her team.
The results of the 3rd round:
Azerbaijan 1.5 – 2.5 Hungary
China 1.5 – 2.5 Israel
U.S.A, 3.5 – 0.5 Egypt
Armenia 2 – 2 Russia
Rank table
1 Russia 8.0
2 Armenia 7.5
3 Ukraine 6.5
4 Israel 6.0
5 Azerbaijan 6.5
6 USA 6.5
7 China 6.0
8 Hungary 5.5
9 India 4.5
10 Egypt 3.0