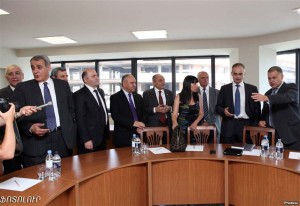 YEREVAN — Armenia's governing coalition and the main opposition Armenian National Congress (HAK) began on Monday first-ever official negotiations that are meant to defuse lingering political tensions in the country ahead of the next national elections.
Representatives of the HAK and the three political parties represented in President Serzh Sarkisian's government reached no concrete agreements during their first meeting that lasted for about two hours. They also failed to set a date for the next round of talks.
Davit Harutiunian, a senior parliamentarian heading the coalition delegation, was optimistic that the talks will continue. But his HAK opposite number, Levon Zurabian, was less upbeat.
"We consider this format to be a supplementary format because it hasn't created conditions for us to talk to authorized individuals [representing the government,]" Zurabian told journalists after the meeting.
In a weekend statement, the HAK said that it wants to negotiate with a "delegation made up of representatives of the executive [government] bodies and authorized by Serzh Sarkisian." "Until such a delegation is formed it will be meaningless to speak of a genuine dialogue between the Armenian National Congress and the authorities," it said.
"We represent the coalition, which means the executive authority formed by the coalition," argued Harutiunian. "We represent the parliamentary majority. We also represent the president of the republic, the head of the coalition."
The first HAK-coalition meeting also did not produce an agreement on the agenda of the unfolding dialogue.
According to Harutiunian, the government side wants it to focus on "mutually acceptable rules of political competition." "Rules that would enable us and our society to act in a more civilized environment," he told reporters.
The HAK's sole demand is the holding of fresh presidential and parliamentary elections. The government camp has repeatedly rejected this demand.
Still, in Zurabian's words, Harutiunian's delegation "does not exclude the discussion of any issue." For its part, the HAK is ready to consider concrete "solutions" proposed by the authorities, he said. "They haven't yet put any solution on the negotiation table," added the opposition leader.
Zurabian also warned, "We have said that if there is no result before September, we will consider the possibilities of dialogue exhausted. We made this clear also during the meeting."
The dialogue was made possible by a recent series of government concessions to the HAK. Those included the release of all opposition members remaining in prison.