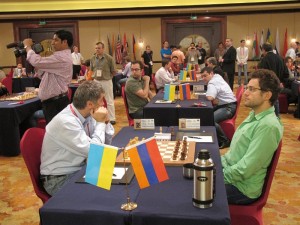 NINGBO, CHINA — Armenia won the 2011 World Chess Team Championship in China on Tuesday, solidifying its internationally recognized status as a powerhouse of the ancient game.
In the final round, Armenia drew 2 – 2 with Ukraine and successfully secured its title, the Chinese team won 2.5-1.5 over Hungary, defending championship Russian team lost 1.5-2.5 to the India team, and U.S. team won 2.5-1.5 over Israel, while the Azerbaijan team won 2.5-1.5 over Egypt.
The Armenian team led by Levon Aronian, the world's third highest ranked chess player, dominated throughout the 12-day tournament, winning five games and drawing the four others. It was the only team without a loss.
Final Rank table Match Points Points
1 Armenia 14 22.5
2 China 13 22.5
3 Ukraine 12 19.5
4 Russia 10 21.0
5 Hungary 10 19.5
6 USA 10 18.5
7 Azerbaijan 9 19.0
8 India 7 15.5
9 Israel 5 13.0
10 Egypt 0 9.0