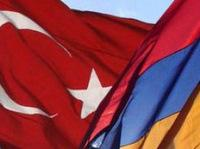 YEREVAN — Prime Minister Recep Tayyip Erdogan is unlikely to kick-start Turkey's ill-fated rapprochement with Armenia even after his Justice and Development Party (AKP) won yet another general election, Armenian political analysts said on Monday.
They predicted that the Turkish government will continue to link the full normalization of Turkish-Armenian relations with a resolution of the Nagorno-Karabakh conflict acceptable to Azerbaijan.
Armenia and Turkey were due to establish diplomatic relations and reopen their border in accordance with two Western-backed protocols signed in October 2009. Ankara has since repeatedly stated that the Turkish parliament controlled by the AKP will not ratify them until there is decisive progress in international efforts to settle the Karabakh dispute.
Yerevan has rejected this precondition, accusing the Turks of acting against the letter and the spirit of the agreements. President Serzh Sarkisian and other Armenian leaders have also threatened to formally annul them.
Artak Shakarian, a Yerevan-based Turkey expert, suggested that while the Erdogan government might attempt to revive normalization process its chances of success will be slim. He argued that Turkey's leading opposition parties, which have been critical of the government's Armenian policy, have increased their presence in parliament despite the AKP's landslide victory.
"According to some sources, secret Turkish-Armenian negotiations are continuing, they are preparing ground to revive the protocols," Shakarian told RFE/RL's Armenian service. "But it must be pointed out that the AKP will have fewer seats in the new Turkish parliament. So Erdogan will again have to negotiate with opposition parties or at least independent Kurdish deputies."
"There is a view that Erdogan could take an interesting step and ratify one of the two protocols, which is weaker and easier to sell to Azerbaijan. Namely, the protocol on the establishment of diplomatic relations [with Armenia,]" he said.
Ruben Melkonian, a Turkish studies professor at Yerevan State University, was more pessimistic. He said that Erdogan's chief priority now is to enact a new Turkish constitution favorable to the AKP and that he will have to court the opposition for that purpose.
"I think that with Turkey entering another electoral phase … it is difficult to expect it to make active efforts to normalize Turkish-Armenian relations," Melkonian told RFE/RL's Armenian service. Protocol ratification will become a real possibility only in case of "unexpected geopolitical developments" in the region, he said.