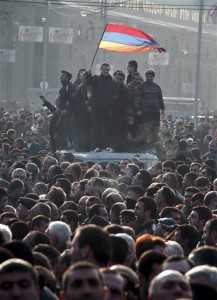 YEREVAN — Armenia's Special Investigative Service (SIS) said on Wednesday that it has still not made notable progress in a renewed investigation of the 2008 post-election unrest in Yerevan that was ordered by President Serzh Sarkisian in late April.
Vahagn Harutiunian, head of an SIS investigating team, said that none of some 100 eyewitnesses questioned in the last two months has provided significant information shedding more light on the worst street violence in the country's history.
"The investigation is continuing with the same intensity, but we have no revelations," Harutiunian told a news conference. "In any case, we still expect a result that will be interesting and that is expected by the entire society."
Harutiunian said in that regard that hundreds of other Armenians who witnessed or participated in the deadly clashes between security forces and opposition protesters will be questioned in the coming months.
Sarkisian told the SIS to investigate the unrest in "a more meticulous" way in response to opposition demands. He said the law-enforcement agency subordinate to state prosecutors should specifically try to identify those responsible for the deaths of eight opposition protesters and two police personnel.
Sarkisian's April order was followed by the circulation of fresh Internet video clips raising more questions about police actions on the night from March 1-2, 2008. One of them posted on Youtube recently shows a group of uniformed men opening fire in the direction of opposition supporters demanding the rerun of a disputed presidential election.
Harutiunian said his team has examined the video and can confirm that the shooters were police officers. But he claimed that the investigators are unable to identify them because of the poor quality of the footage.
"We will order a [more detailed] forensic examination involving ballistic experts and computer specialists to try to understand what kind of weapons are shown in that footage," he added.
The unrest probe has until now targeted supporters and associates of opposition leader Levon Ter-Petrosian. More than 100 of them were arrested in March-April 2008 on what the Armenian opposition regards as trumped-up charges. By contrast, virtually no law-enforcement officers were prosecuted at the time.