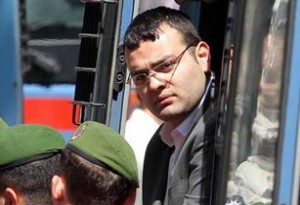 A prosecutor on Friday demanded up to 27 years in jail for Ogun Samast, the hitman in the murder of Armenian-Turkish journalist Hrant Dink, on charges of premeditated murder and possession of an unlicensed gun, Cihan news agency reported.
Istanbul Public Prosecutor Ali Demir announced his opinion as to the accusations directed at Samast during Friday's hearing at the Istanbul 2nd Juvenile Court, where the defendant is standing trial. He asked the court to keep Samast behind bars for 19 to 27 years.
A Turkish court had ruled in October last year that it would allow Samast to be tried separately by a juvenile court since lawyers for Samast had argued that their client was still a minor when he committed the crime.
Samast, who is now 20, is accused of pulling the trigger and killing Dink outside of his office in January 2007. Two other suspects accused of masterminding the attack will continue to be tried by the court in Istanbul.
There have been concerns that the move, which followed a change in laws governing child offenders, could lead to a reduced sentence for Samast.
Dink was killed in broad daylight outside his newspaper's offices on Jan. 19, 2007, by Samast, who was a minor at the time of the murder. The ensuing investigation and trial exposed the hitman's questionable links to various individuals tied to the Istanbul police and Trabzon Gendarmerie Command.
Despite significant evidence pointing to the involvement of various officers in organizing the plot to kill Dink, the identity of the masterminds of his assassination remains elusive.
Lawyers representing the Dink family have long alleged that the murder was the doing of Ergenekon, a clandestine group charged with plotting to overthrow the government.