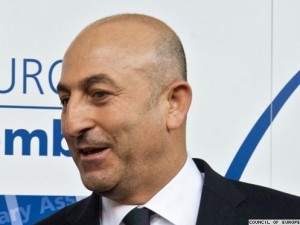 STRASBOURG — Mevlut Cavusoglu, the Turkish president of the Council of Europe Parliamentary Assembly (PACE), on Monday expressed hope that the Armenian and Azerbaijani presidents will reach an agreement on Nagorno-Karabakh at their upcoming meeting in Russia.
"I want more than everybody else that the two leaders will sign an agreement," he told a news conference in Strasbourg. "So I think nobody will say no to an agreement. We will welcome this progress very much."
Serzh Sarkisian and Ilham Aliyev are scheduled to meet in the Russian city of Kazan on Friday for talks which the United States, Russia and France hope will yield an Armenian-Azerbaijani agreement on the basic principles of a peaceful settlement. The talks will be hosted and mediated by Russian President Dmitry Medvedev.
According to Cavusoglu, the signing of such an agreement would also pave the way for the normalization of Turkish-Armenian relations.
"If there is any agreement between the two leaders — and Turkey has some conditions, as Prime Minister [Recep Tayyip Erdogan] of Turkey explained this for several times, and if those conditions are met — I think this [Turkish-Armenian] treaty will be ratified in the parliament," he said.
The PACE chief referred to the 2009 protocols that call for the establishment of diplomatic relations between Armenia and Turkey and the opening of their border. Ankara has made their parliamentary ratification conditional on a Karabakh settlement acceptable to Azerbaijan.
The Armenian side rejects this precondition, saying that it runs counter to the letter and spirit of the protocols.