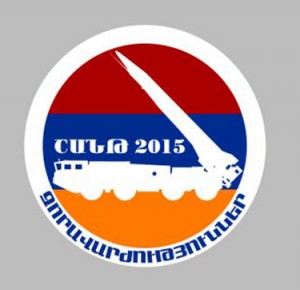 YEREVAN — Armenian President Serzh Sarkisian met with members of the National Security Council at the start of strategic command-and-staff military exercises that will simulate Armenia's response to foreign aggression by a "conventional enemy".
The four-day exercises codenamed "Shant-2015" (Lightning-2015) are involving not only the Armenian military but also other state bodies, including those responsible for mass mobilization and evacuation of civilian residents from border settlements in times of war.
All state agencies are prepared to make prompt and balanced decisions in any situation envisaged by the scenario of the exercises, Deputy Chief of General Staff of RA Armed Forces Movses Hakobian told a press conference today. According to him, the country has been brought to a high level of combat readiness.
"The exercises aim to reveal the potential of the state in case of possible war. This is the first time Armenia is holding exercises of such scale, involving all state agencies," Hakobian said.
It was not immediately clear how many soldiers and pieces of military hardware will join the exercises later this week. The Armenian Defense Ministry said it will divulge more details on Friday.
The Defense Ministry added that considering the military and political situation that has emerged around Armenia and in the adjacent territory, the conventional enemy of the exercise and the situation are fitted as closely to the reality as possible.
It was an apparent reference to Azerbaijan's regular threats of a military solution to the Nagorno-Karabakh conflict.
Senior Armenian military officials briefed Yerevan-based foreign military attaches on the upcoming war games at a meeting on Wednesday.
The presidential press office said that during the mock emergency session of the National Security Council Sarkisian issued "instructions stemming from the war game scenario to relevant state bodies."