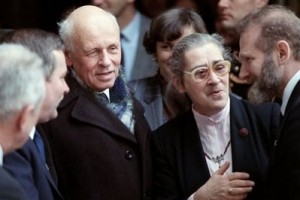 BOSTON — Soviet dissident Yelena Bonner, the widow of Nobel Peace Prize winner Andrei Sakharov, has died after a long illness at the age of 88, her daughter said Sunday, AFP reported.
Bonner died in Boston, where she had a residence, her daughter Tatiana Yankelevich according to a statement quoted by the RIA Novosti news agency.
"With deep sorrow, we report that our mother Yelena Georgievna Bonner died today, June 18, 2011, at 1:55 pm," her daughter said in the statement.
Bonner will be laid to rest next to her husband at Moscow's Vostryakovo Cemetery, her daughter said.
Her relatives have asked that people not bring flowers to the ceremony and instead make donations to the Andrei Sakharov Fund, which remains a leading Russian rights organisation, Yankelevich added.
Bonner had been an outspoken critic of the Soviet Union since the late 1960s and married the nuclear physicist Sakharov in 1972.
She accepted her husband's Noble Peace Prize at a 1975 awards ceremony in Oslo after her husband was barred from travelling abroad for his persistent criticism of the Soviet Union's rights record.
Sakharov died at the age of 68 in 1989 in the closing years of the Soviet regime, becoming a public critic of the last Soviet president Mikhail Gorbachev.
Ylena Georgievna Bonner was born in Merv (now Mary) in Turkmenistan on Feb. 15, 1923. As a child, she saw her parents' lives stamped by Soviet totalitarianism.
Her father, Gevork Alikhanov, was an Armenian who founded the Soviet Armenian Communist Party. He was arrested and disappeared into Stalin's prisons in 1937.
Her mother, Ruth Bonner, was Jewish and originally from Siberia. She was arrested in 1938 and sent to the gulag. Ms. Bonner, who was then 15 and already a worker in a Communist Party archive, later told a biographer that she remembered helping her mother pack and consoling her younger brother, Igor.
Ms. Bonner recalled years later that her background had given her "deep respect toward all beliefs, all religions."
"The most deplorable teaching," she said, "is the superiority of any nation over another."
Bonner quit the Communist Party in 1968 when Soviet forces invaded what was then known as Czechoslovakia.
In the 1970s, she joined dangerous protests against the wide-scale arrest of other dissidents and became a vital source of information about the fates of those detained and exiled by the Soviet regime.
Sakharov, who at the time was the country's most prominent nuclear scientist, was himself expelled from Moscow to what is now Nizhny Novgorod in 1980 for protesting at the Soviet invasion of Afghanistan.
Bonner was arrested in 1984 for helping Sakharov communicate with the West while in exile, only returning to Moscow in 1987.
In the post-Soviet era, she joined leading rights organisations and later became a fierce critic of Vladimir Putin, a former KGB agent who served as president between 2000 and 2008 before becoming prime minister.